SEND
"I have always been kept informed about my child's day to day progress. The observations on the online journal have been useful to see how she engages in different activities in Nursery and her interactions with others. I had regular review meetings with Andi, and she was always very helpful and provided me with a lot of support. The nursery has been very accommodating to my child's needs and I will definitely recommend Flatts to other parents."
Flatts Nursery School Parent, October 2021
Our is Special Educational Needs and Disabilities Co-Ordinator (SENDCO) is Andi Gilroy-Sinclair (Headteacher) You can contact her at head@flattsnursery.co.uk or by phoning 01924 456771
You can read our SEND report and policy by clicking the links below.
At Flatts Nursery School we are passionate about inclusion, we have an accessible site and excellent facilities including a fully equipped sensory room.
We work closely with Kirklees Early Years Special Educational Needs Service and Locala therapy teams to meet children's needs.
Kirklees Local Offer
The Government has asked all Local Authorities in the UK to publish in one place, information about the services and provision they expect to be available in their area for children and young people from 0 to 25 who have Special educational Needs and / or a Disability (SEND). This is known as the Local Offer.
To find out what support and services are available to you and your child in Kirklees, find the Kirklees local offer by clicking their logo below: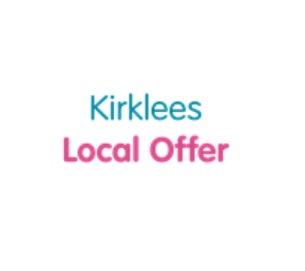 ---
School SEND Information Report
At Flatts Nursery School we are committed to the equal inclusion of all our children in all areas of learning. We are committed to offering an inclusive curriculum to ensure the best possible progress for all of our children whatever their needs and abilities. The school seeks to raise achievement, remove barriers to learning and increase physical and curricular access to all. All children with SEND are valued, respected and equal members of school.
Click on the document link below for Flatts Nursery School SEND Information Report which gives details about the provision we make for the children with SEND.
---
SEND Policy
Please read our Special Educational Needs and Disability (SEND) policy for details of how we identify children who have SEN and how we assess, plan and review their needs.