Our Curriculum
At Flatts Nursery School we strongly believe that by developing strong roots and nurturing our children, they will grow into independent and resilient individuals with a passion for learning.
At Flatts Nursery School, we believe that the Early Years Foundation Stage is crucial in securing solid foundations which children are going to continue to build upon. It is our intent that the children "grow strong roots"; physically, verbally, cognitively and emotionally whilst developing a love for lifelong learning. We believe that all children deserve to be valued as an individual, and we are passionate in allowing all children to achieve their full, unique potential. With this in mind we use learning walls in the classroom to identify each child's next steps, we then carefully develop our flexible EYFS Curriculum which enables them to grow and develop along their own learning journey.
What to expect in the Early Years - a guide for parents
To find out more about Flatts Nursery School Curriculum click the image below or the link at the bottom of this page.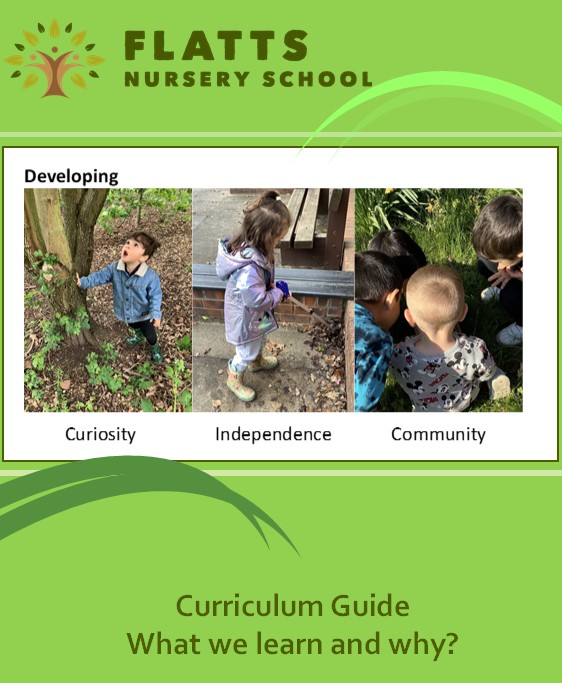 Children in our Nursery follow the EYFS Curriculum, which has seven main areas of learning.
The Prime Areas
Personal, Social and Emotional Development
Communication and Language
Physical Development
The Specific Areas
Literacy
Mathematics
Understanding the World
Expressive Arts
The teaching of these areas of learning is practical and playful with support and challenge from adults in Key Group Sessions, small group sessions and working with individuals. There is a combination of adult-led, teacher taught sessions as well as a wealth of stimulating continuous provision opportunities.
Characteristics of Effective Learning
Alongside the Prime and Specific Areas, the EYFS Curriculum focusses on the ways children learn, the skills they will need to be successful lifelong learners. These characteristics are separated into three areas:
Playing and exploring - engagement
Finding out and exploring
Playing with what they know
Being willing to 'have a go'
Active Learning - motivation
Being involved and concentrating
Keeping trying
Enjoying achieving what they set out to do
Creating and thinking critically - thinking
Having their own ideas
Making links
Choosing ways to do things
We strive to provide opportunities and encouragement which develop these skills to enable our children to draw upon them throughout their life.
Learning Environments
Our learning environments, both inside and outside are adapted to meet the different and developing needs of the children in our care. We aim to ensure that these areas are always stimulating and exciting, and importantly they are accessible to all children regardless of where they are on their learning journey. The environments are developed to promote independence within our children and allow them to access the curriculum independently and confidently with the necessary level of support and challenge.
Assessment
Children are assessed continuously through accurate and important observations. These vital snapshots into our children's learning provide the crucial information for future planning, not only for our key groups but also for individual children's next steps in their learning. These observations enable the practitioners to ensure learning is embedded and consistent and that all children make good progress within our nursery setting. Our practitioners are active in the observations, so we limit how many are recorded and shared with parents - we want our adults "in the moment, NOT recording the moment".